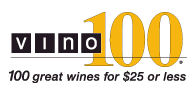 Newburgh, NY
SITE NAVIGATION
NEWSLETTER SIGN-UP
STORE INFORMATION
A New Concept in Buying Wine
The Vino 100 Wine Barometer will change the way you choose wine based on Flavor and Body. Our Wine Barometer is based on a series of tests by wine experts to help you find the perfect wine for your taste buds!
Click here to learn more!
A New Way to Buy Wine ...
Simply ... Based on Flavor and Body
We make the wine buying experience
as enjoyable as the drinking.
So many of us enjoy wine. How often, though, do we experience the frustrations of buying wine? Wine stores are all too often intimidating, snobbish and expensive, or are designed as wine "superstores" where the quantity of wines is overwhelming and the quality of wines and the service provided is under whelming.
Welcome to our Website
Sunday Nov 11, 2018 from 5:30-8:00pm - Join us at the River Grill, located at 40 Front Street on the Newburgh NY, for our 13th Annual Thanksgiving Wine Tasting, Live Music, Dinner Event. . The event includes sampling over 35 wines, pairing wines with a Thanksgiving inspired buffet meal, the ability to order great wines at discount to have on your Thanksgiving table, experiencing live acoustic music in a beautiful riverfront location. $35 per person advance reservation and payment is required. Call Vino 100 at 845-725-7680 to reserve your spot.
Join us for Wine Tree Wednesdays - Sale every Wednesday on our Wine Tree selections - our famous wine tree contains gems which are $10 and under - Wednesdays these selections are on sale for an additional 10% off.